Re-posted from old forum:
I selected Georges' wood on Monday, and I have to share what I found.
While digging through the bins at at Amish fellas lumber place I found a beautiful board.
It is no sanded or finished, at all. It was misted with water to pop the grain for the pip. I can't wait to rub some oil in it!
The bullet appears to be .22, but looks a bit long for a .22 long rifle.
I took the 20x loupe out and looked at it, and you can faintly see the rings around the leads. At first I thought maybe a .32 cal from an old time black powder squirrel rifle.
It also had two small (#5 or 6) shot lodged in it, but they came out in planing and sanding. It was apparently a popular hide out for tree rats.
I can't wait to get started on this block... just to see the character
And so it began...
After completing a C'Blades for Tall Dark & Swarfy, and another for Geodude (which was broken during shipping - more on that later)... I proudly present Georges' second block; A Wicked Slope.
*Not only does he collect JK's, but apparently knife blocks too?!?!
I'm not doing to go into fine details and specs and sizes as most of that was on the initial post.
I am however going to mention how absolutely beautiful and unique the walnut base on this block was. The burl along with the open bark and bullet that lodged in it... makes it a true one of a kind specimen. The blade surface was also full of grain, colors and markings. There is no stain on any of the wood, at all. All color and tonal changes you see are what nature made. The only thing I applied to the wood was sandpaper and polyurethane (semi gloss).
I felt compelled to take extra steps to make the beauty that these boards possessed stand out even more. I thought long and hard and the only thing I could come up with was to add extra extra layer, or two, of trim around the blade surface. I think the idea worked well
In addition to this being a magnetic knife block/storage device... it also doubles as a (cook) book stand.
***
I would not recommend you put an iPad or tablet on it
, but an old fashion book works just fine! These pictures are near the bottom of the post.
From the front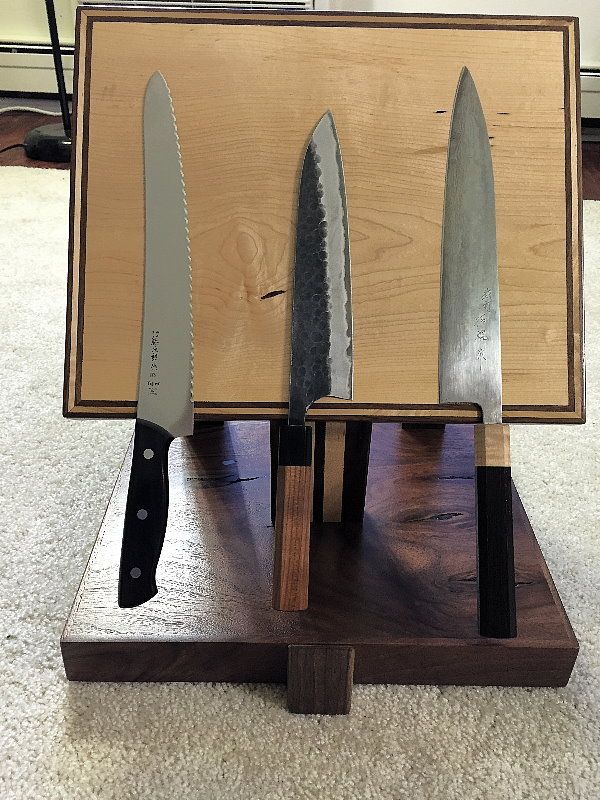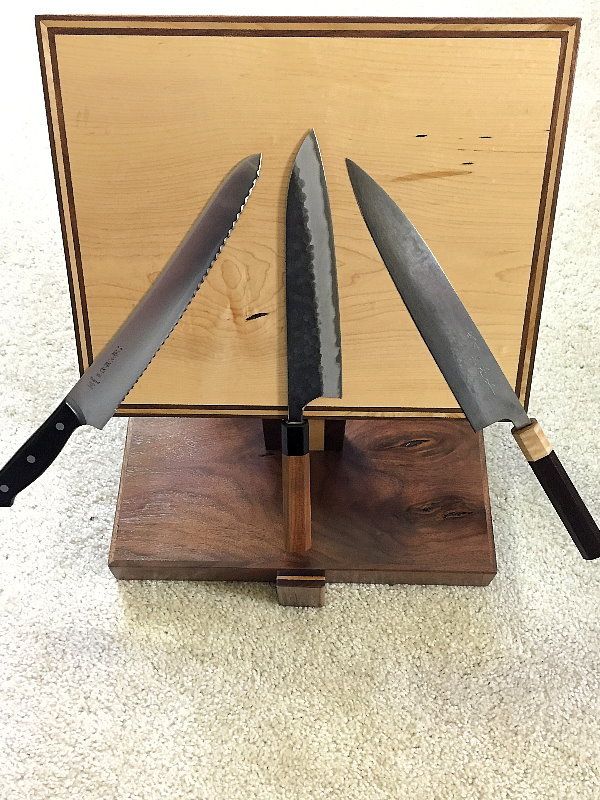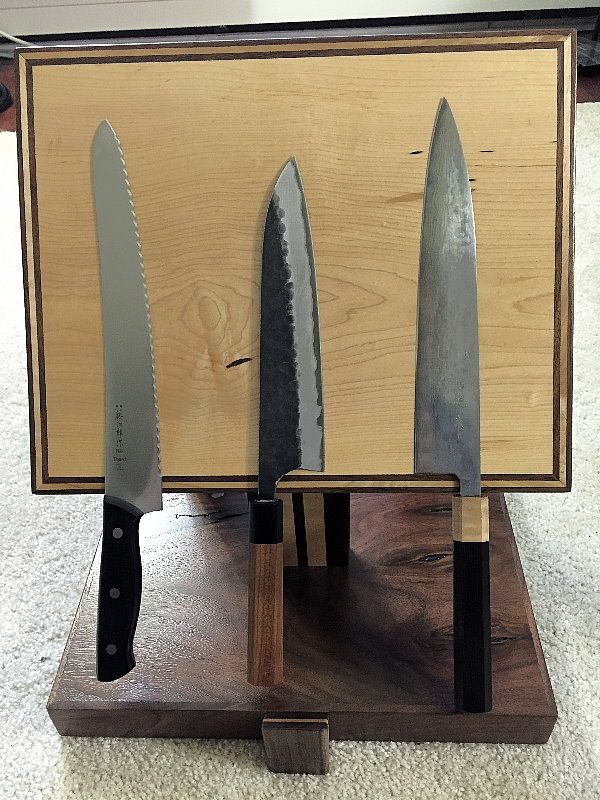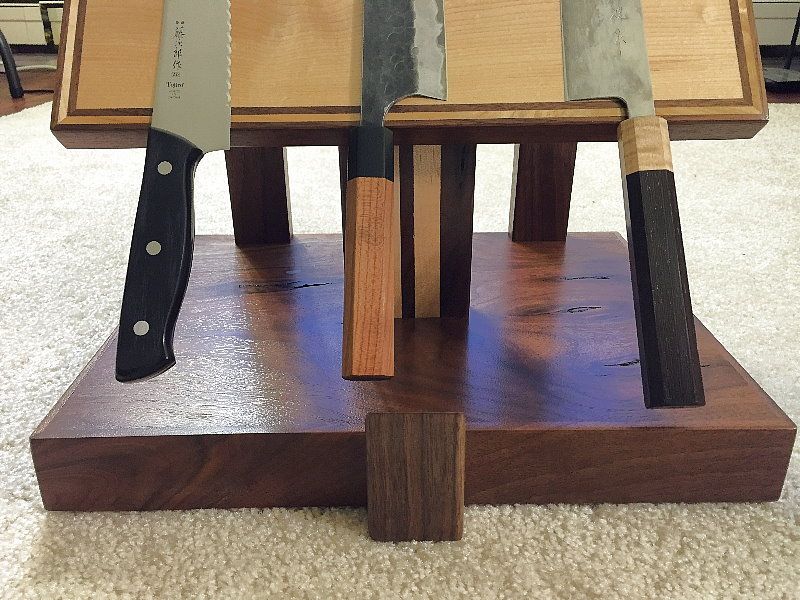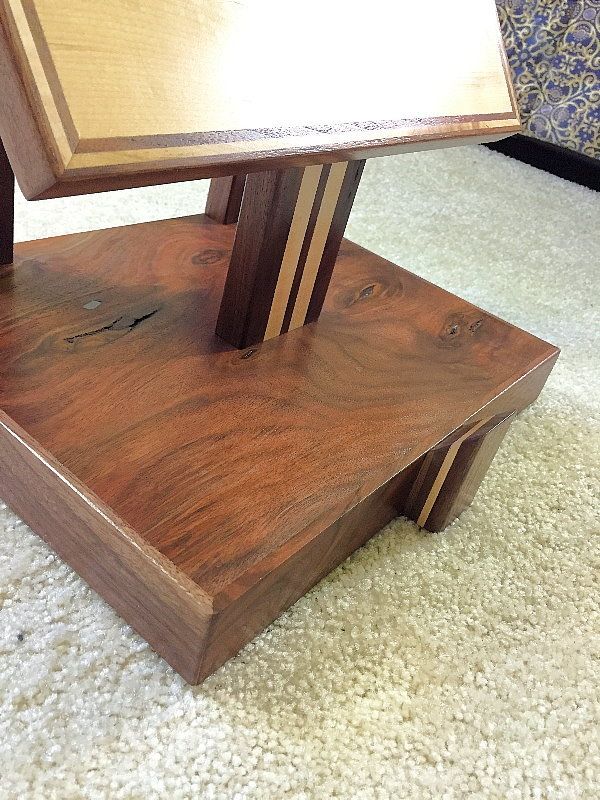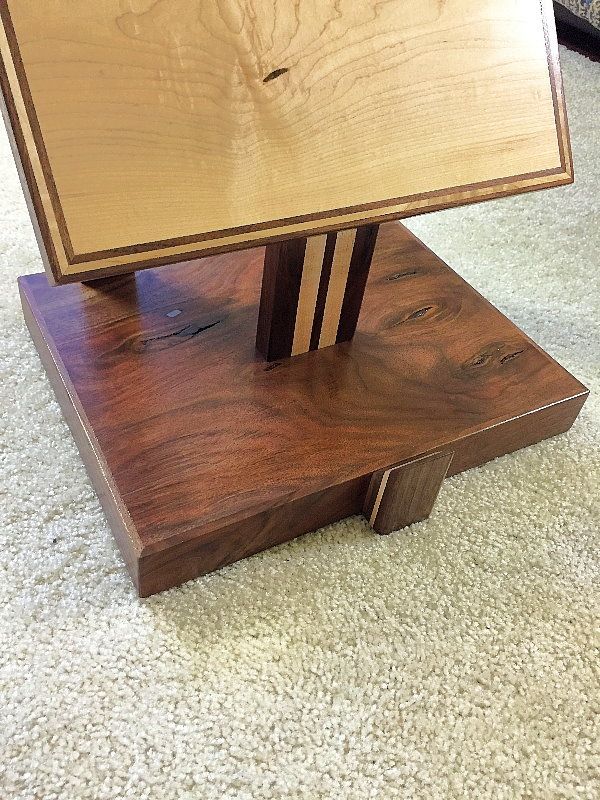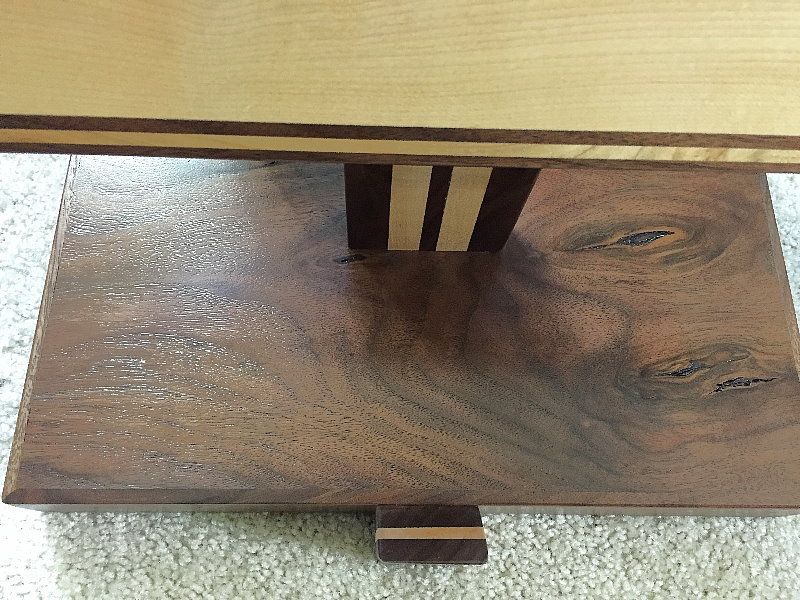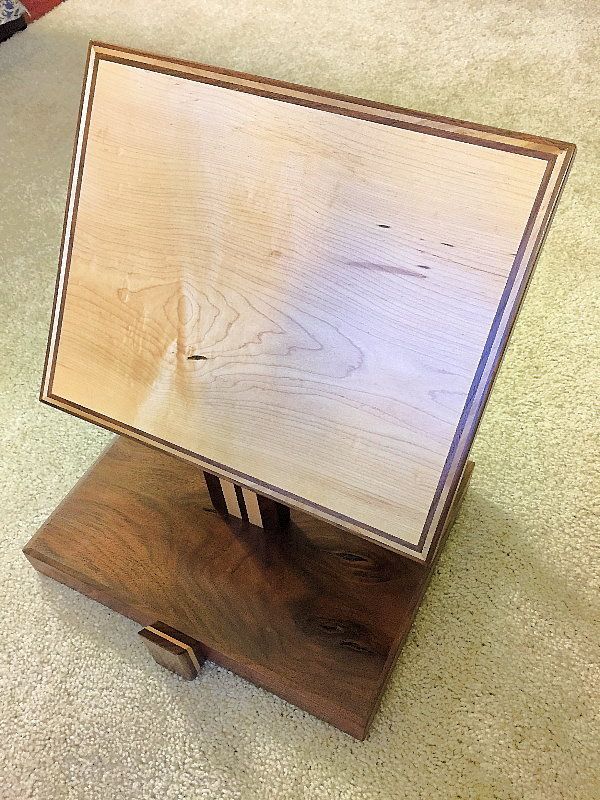 From the side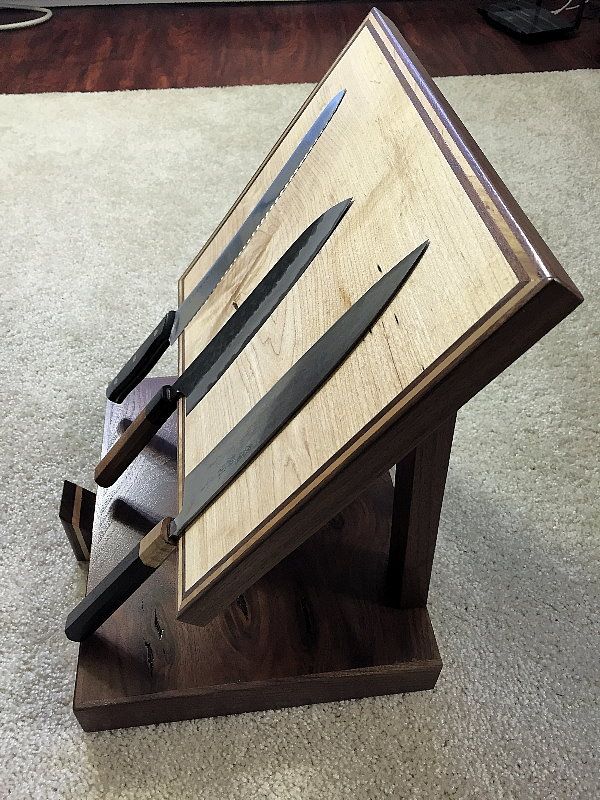 Back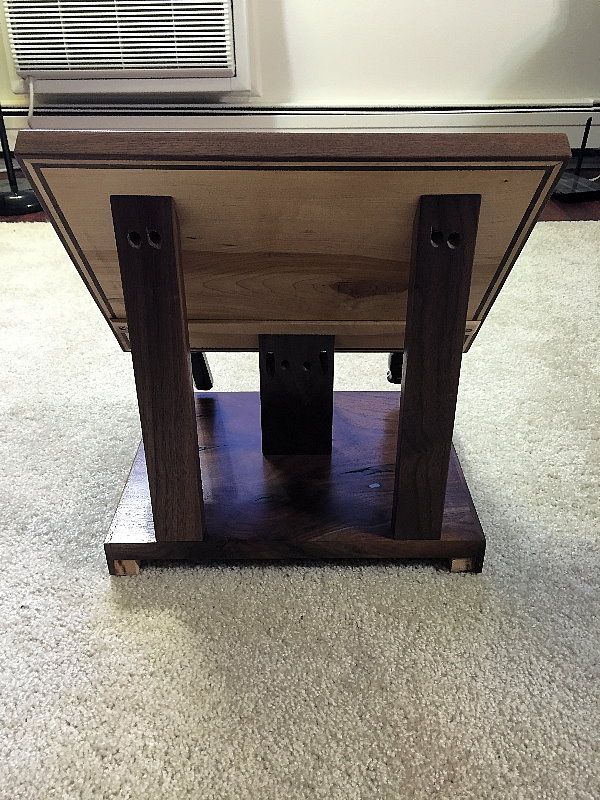 Mode2 - Book Stand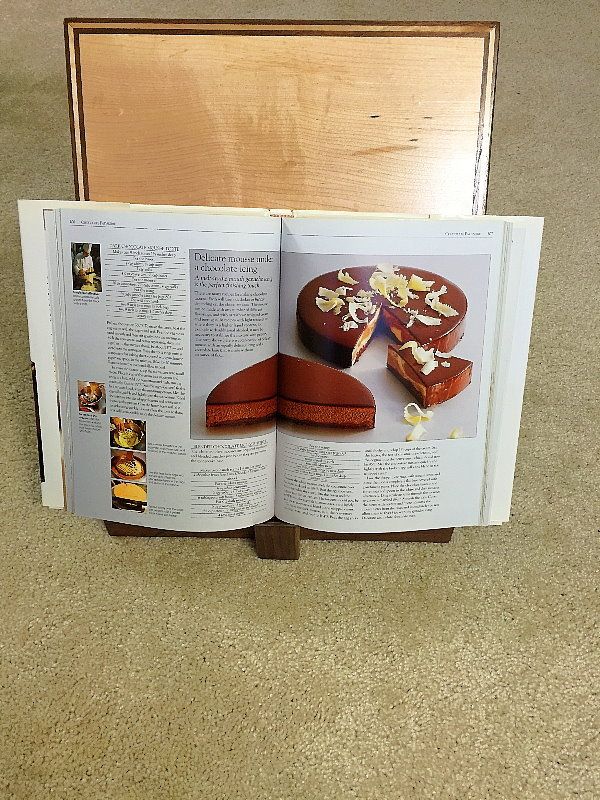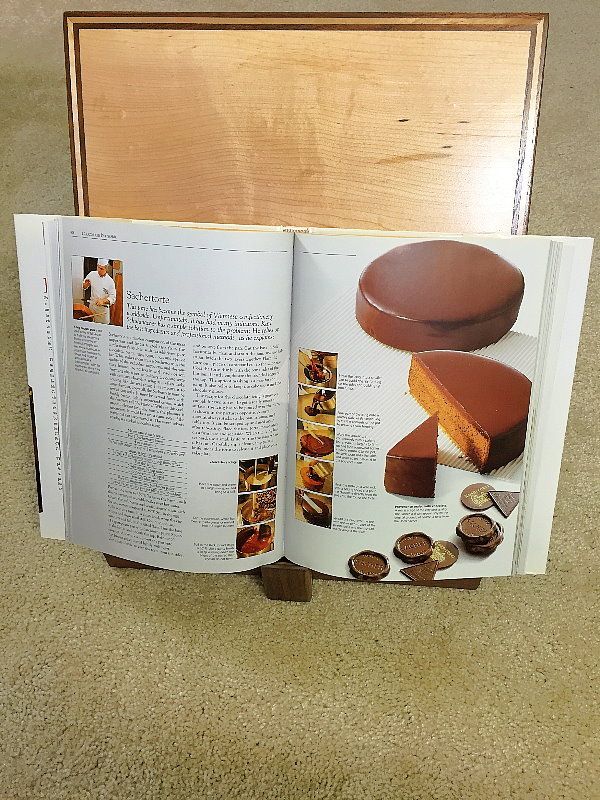 Here is a video that I shot for George prior to assembly.
The video is nothing special, but it shows some of the grain that the pictures don't, and some of the curl in the Maple of the blade surface and second/middle layer of trim.
I hope you enjoyed yourself... I did!
I think this may be the finest piece of
whatever
I've ever built. GeoDudes all walnut block is a close second; if it can be revived from its mishap in shipping.