Re-posted from old forum:
Here are a few pictures of the block after assembling the tiers together, and just after the first coat of tung oil.
Oh my! Look at her curls
In the three boards I selected for this project only one had any hint of character besides the beautiful curl
This is the Harry Potter scar or lightning bolt.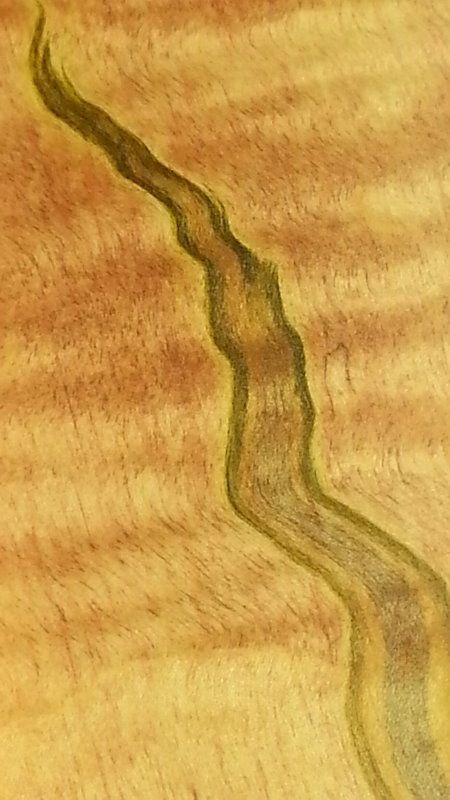 The base is still in the clamps getting its trim applied. So no sneak peeks of that yet.
And so it continued...
We're near completion
It is 100% done as far as construction goes, but there is still a few minor details to take care of.
It's looking like it will be headed to it's new home on Thursday.
I'm extremely nervous about shipping it and what may happen.
I'm also not looking forward to finding out what the shipping cost(s) are.
TD&S has agreed to receive it in two separate pieces; the base and the tiers shipping in different boxes. It's most likely the safest way, and the most economical. It will go Priority regardless.
Final dimensions:
Base - 16-3/8" (416mm) wide x 11-1/4" (286mm) deep.
Base height 1-3/4"
Tiers:
15-3/4" (400mm) long x 2-3/4" (70mm) tall - for all seven tiers.
Total height 16-5/8" (420mm)
Total depth 12-7/8 (327mm) ... tiers protrude passed the base.
Width 16-3/8
Sorry about the blurry picture(s).
Hopefully we'll get some pictures of it and the blades it will be home to once it reaches its' destination.
Knives, top down: Goko 150 and Tojiro ITK 120, Kanehide PS60 210 and 240, Shimo 240, Ikeda AS 250
.
the little white spot about half way between the support pillar and the edge... is grain, not glue
.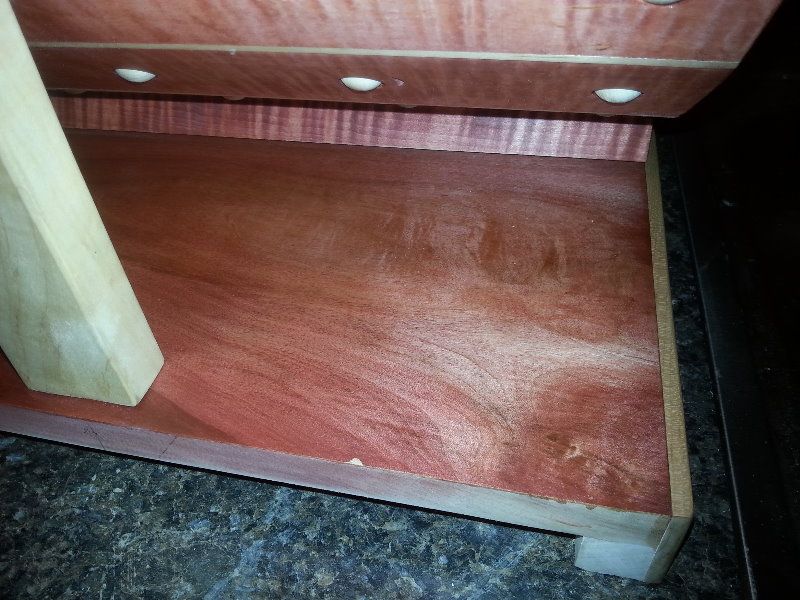 Version 2.0 as far as the aesthetics of the back. No more connection screw between the tiers, and magnet holes covered with mushroom wood plugs. I don't see any way to make it any cleaner than that unless I cover the magnets with one piece of wood like Georges
.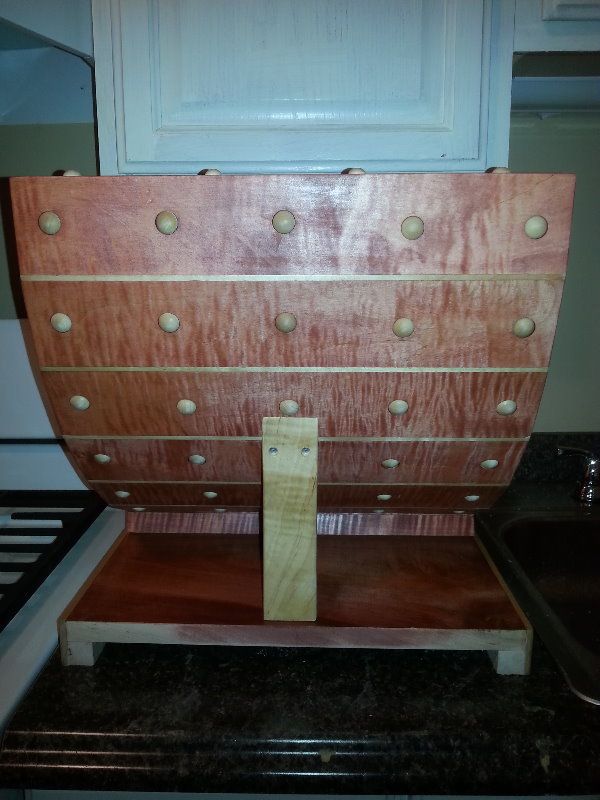 Thank you Rick, for being the first person to stand up and textually open your wallet and declare interest.
It has been a reat treat working on your block, and I mean that literally. I very much enjoyed it!
I will touch up anything I can find tomorrow and will get some packing materials and send it your way either Wednesday or Thursday.
Thanks for lookin'!